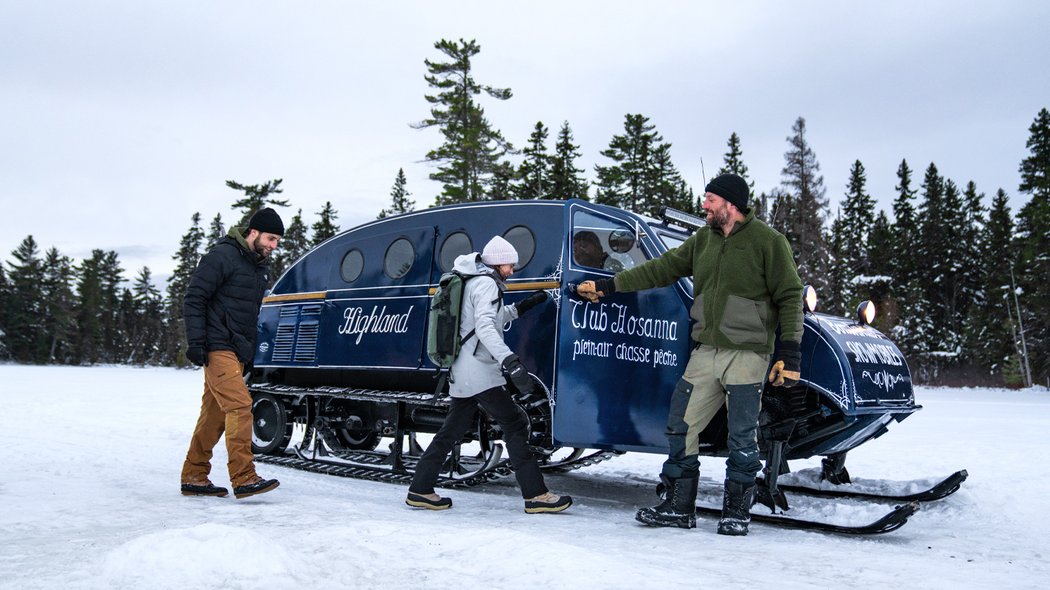 Familiar with snow buses? We're talking about the first snow-going vehicles that were designed and manufactured by the famous mechanic Joseph-Armand Bombardier between 1930 and the 1950s.
These early B-series snowmobiles were used by priests, mail carriers and doctors to reach remote rural areas during Quebec's unforgiving winters. Today they're used as recreational vehicles for riding in our snow-covered forests.
Want to take a trip back in time? Here are eight regions where you can experience one of these wonderful snow buses.
1. Chaudière-Appalaches
Located just one hour from Québec City, the Pourvoirie SafariThis link will open in a new window offers hunting on horseback and snow bus excursions. It's a magnificent way to discover the spectacular snowscapes of the Appalachians and this mountainous area.
2. Côte-Nord
North of Baie-Comeau, you'll find the Pourvoirie du Lac CyprèsThis link will open in a new window. Nestled off the area's forest roads is a haven of white waiting to be explored aboard a snow bus, as well as an outfitter offering a multitude of outdoor activities.
3. Lanaudière
Lanaudière is well known for its vast virgin spaces and 10,000 lakes and rivers. The Pourvoirie Coin Lavigne This link will open in a new windowand Pourvoirie Pignon Rouge MokocanThis link will open in a new window are the perfect places for enthusiasts of the outdoors and snowmobiling.
4. Laurentides
Visit the Laurentians aboard a snowmobile? Why not! In the north of the region, the Pourvoirie des 100 Lacs SudThis link will open in a new window is an ideal starting point for exploring the trails criss-crossing the vast white landscapes.
5. Mauricie
At Pourvoirie du Lac BlancThis link will open in a new window, your excursion aboard a Bombardier B12 snow bus takes you to an Indigenous culture interpretation site where you can learn, through your guide, about relations with the communities. At Club HosannaThis link will open in a new window, discover the outfitter's network of trails aboard a 1950's-vintage snow bus.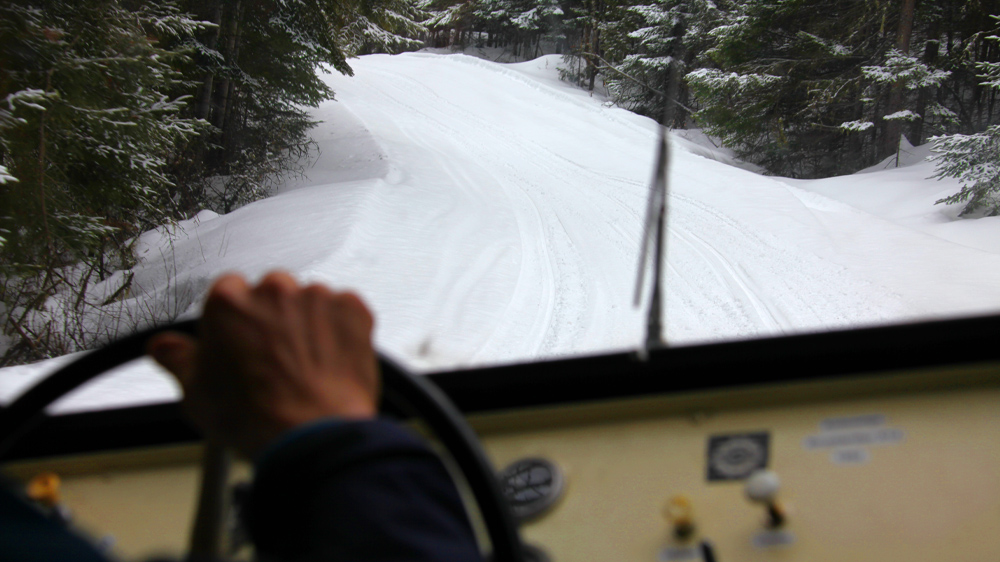 6. Nord-du-Québec
Sure, you can still ride in a 1950's-vintage snowmobile in Northern Quebec! The region, with its harsh winter weather, is the perfect place to take to the trails aboard this splendid all-terrain vehicle. Stay at the Club de pêche du Lac JustoneThis link will open in a new window in Fermont for a very special Nordic experience.
7. Outaouais
Located just 15 minutes from the centre of Montebello, Kenauk NatureThis link will open in a new window has 265 km² of land and 65 lakes—the perfect place to explore the wilderness in a 1950's-vintage snow bus. It features a 5-star cabin near a private lake. What more could you want?
8. Saguenay–Lac-Saint-Jean
Saguenay–Lac-Saint-Jean is a true playground for enthusiasts of snowmobiling and vintage snow buses. Check out Pourvoirie DamvilleThis link will open in a new window with its 113,000 hectares of land, and Pourvoirie ItoukThis link will open in a new window, a gem in the Monts-Valin mountains known for its outstanding trails.
Ready to try this out-of-the-ordinary experience? Look into the outfitters offering snow bus excursions here. Enjoy your adventure!