Below are all the logos in high-resolution format and different sizes for use on your various media platforms and in publications.
Québec Outfitters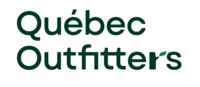 Main logo: Can be used alone or in combination for all types of communications, including marketing. This is the preferred image in partner and outfitter member publications and in promotional documents.
Québec Outfitters Association (QOF)
This logo is to be used in official communications such as representations to government, grant applications, partnership agreements, etc. It can be used in combination with the Pourvoiries Québec logo.