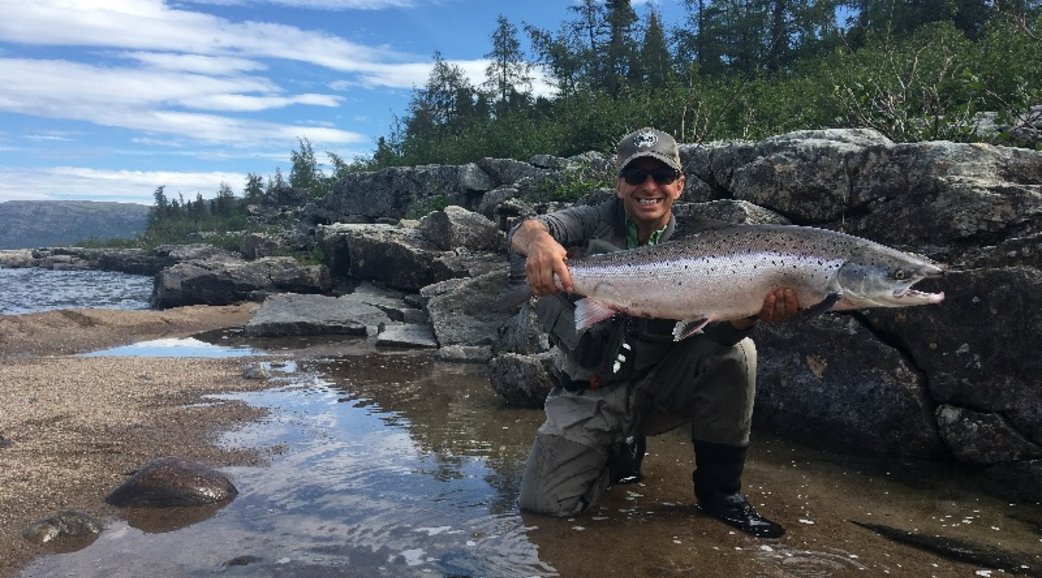 Description
Ungava Adventures invites you to discover the vast Arctic lands of Ungava Bay. Helen Falls Lodge is renowned as the best destination in the WORLD for Atlantic salmon fishing. Discover our all-inclusive packages: Fishing and Northern Helicopter Safari as well as our Salmon Fishing Package! In addition to the quality of our accommodations, you will be able to enjoy the wildlife of the Great North where polar bears, arctic wolves, caribou and musk oxen abound!
Additional Information
Access
By plane, helicopter or seaplane by Kuujjuaq.
Location
Hélène Falls, Georges River, Weymouth Inlet
Distance from
Montreal : 1443 km
Quebec : 1268 km
Gatineau : 1566 km
Sept-Îles : 1144 km
Trois-Rivieres : 1395 km
Val d'Or : 1374 km
Saguenay : 1144 km
Rimouski : 1100 km
Some distances may be indicated as the crow flies.
Zone(s)
23
GPS coordinates
Latitude : 58.21486
Longitude : -65.82070
Opening Period
July 24th to September 30th
Type of outfitter
Without exclusive rights
Service language
French and english
Type of catering
Establishment number
850412
License number
10-501
All activities
Summer
ATV
Black bear watching
Clay shooting
Kayak
Mountain biking
Wildlife observation
Fishing
Primary species
Arctic char (freshwater)
Atlantic salmon
Secondary species
Lake trout
Native brook or speckled trout
Types of fishing
Waterbody
Additional information
Mandatory catch & release in certain stretch of water
Exclusive fly-fishing in certain stretch of water
Shore lunch prepared by a guide
Common
Access fee
Battery recharge
BBQ
Bedding
Boat
Fish-cleaning service
Freezer
Guiding service
Indoor SPA
Plane/charter service
Telephone system
With supplements
Gas for sale
Gasoline motor
Sale of diesel
Sale of fish bait
Sale of fishing licenses
Sale of oil
Lodging
CAMP 2
Ungava Adventures / Helen Falls
Nunavik, Rivière-Koksoak
3 beds
Single bed (max. 1 pers.): 3
Lodging
CAMP 3
Ungava Adventures / Helen Falls
Nunavik, Rivière-Koksoak
3 beds
Single bed (max. 1 pers.): 3
Lodging
CAMP 4
Ungava Adventures / Helen Falls
Nunavik, Rivière-Koksoak
2 beds
Single bed (max. 1 pers.): 2
Lodging
CAMP 5
Ungava Adventures / Helen Falls
Nunavik, Rivière-Koksoak
2 beds
Single bed (max. 1 pers.): 2
Lodging
CAMP 1
Ungava Adventures / Helen Falls
Nunavik, Rivière-Koksoak
4 beds
Single bed (max. 1 pers.): 4
Lodging
CAMP 2
Ungava Adventures / Helen Falls
Nunavik, Rivière-Koksoak
3 beds
Single bed (max. 1 pers.): 2
Single bunk bed (max. 2 pers.): 1
Lodging
CAMP 3
Ungava Adventures / Helen Falls
Nunavik, Rivière-Koksoak
3 beds
Single bed (max. 1 pers.): 1
Single bunk bed (max. 2 pers.): 2
Lodging
CAMP 4
Ungava Adventures / Helen Falls
Nunavik, Rivière-Koksoak
4 beds
Single bed (max. 1 pers.): 4
Lodging
CAMP 5
Ungava Adventures / Helen Falls
Nunavik, Rivière-Koksoak
3 beds
Single bed (max. 1 pers.): 3
Lodging
CAMP 1
Ungava Adventures / Helen Falls
Nunavik, Rivière-Koksoak
3 beds
Single bed (max. 1 pers.): 3
Lodging
CAMP 1
Ungava Adventures / Helen Falls
Nunavik, Rivière-Koksoak
Lodging
CARRÉ DE TENTE 1
Ungava Adventures / Helen Falls
Nunavik, Rivière-Koksoak
Lodging
CARRÉ DE TENTE 2
Ungava Adventures / Helen Falls
Nunavik, Rivière-Koksoak
8 beds
Single bed (max. 1 pers.): 8
Lodging
CARRÉ DE TENTE 1
Ungava Adventures / Helen Falls
Nunavik, Rivière-Koksoak
Lodging
CARRÉ DE TENTE 2
Ungava Adventures / Helen Falls
Nunavik, Rivière-Koksoak
Lodging
CARRÉ DE TENTE 3
Ungava Adventures / Helen Falls
Nunavik, Rivière-Koksoak
Lodging
CARRÉ DE TENTE 4
Ungava Adventures / Helen Falls
Nunavik, Rivière-Koksoak