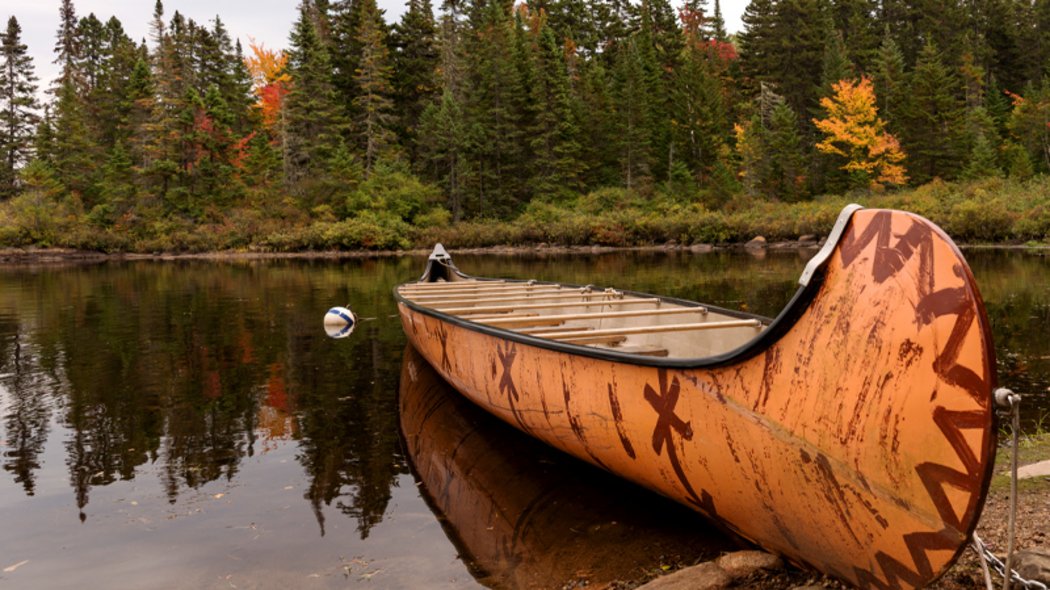 Have you heard of the rabaska, the large bark canoe historically used by Indigenous people for travel and trade? Once prized for its large load capacity and sturdiness, it is now popular among boaters—especially those who visit outfitters to enjoy their many bodies of water.
In outfitters, rabaska is a family activity that everyone will enjoy. Some will take advantage of this relaxing time on the water to observe the fauna and flora. Others, those who enjoy a little friendly competition, will row as fast as they can to win the race against friends and family.
Whatever your preferred activity, discover six outfitters in Quebec where you can go for a ride on this impressive boat.
---
1. Pourvoirie Fern, Abitibi-Témiscamingue
Pourvoirie FernThis link will open in a new window is fortunate to be located on the shores of Lake Duparquet. This magnificent 50 km² lake has 135 islands, making it a pleasure to explore. Take the rabaska to get to the island that is home to the oldest white cedars in America—a fascinating natural phenomenon only 45 minutes north of Rouyn-Noranda.
2. Aventures Kiamika, Laurentides
The KiamikaThis link will open in a new window ecolodge, located near the reservoir of the same name, is a paradise for water sports enthusiasts, with more than 100 boats available for rent. Among these, you will have the option to choose a 10-person rabaska that can accommodate all the rowers in your group. Combine this nautical expedition with the Indigenous adventure offered on site for a complete immersion in Innu traditions.
3. La Seigneurie du Triton, Mauricie
The Seigneurie du TritonThis link will open in a new window forest inn may be a century old, but it is also a well-known landmark brimming with outdoor activities, including rabaska. The 45-km² estate includes a dozen peaceful lakes and a majestic river that will delight both fishermen and boaters. Interesting fact: you can only get there by air or by boat!
4. La Pourvoirie du Lac Blanc, Mauricie
Strategically located between Québec and Montréal, the Pourvoirie du Lac BlancThis link will open in a new window is popular among families for its range of activities and the beauty of the nature that surrounds it. To enjoy it from the water, board a rabaska for a well-deserved break after your fishing trip. You can travel along Otter Lake to the ecosystem of the beaver, this hard-working animal that has always fascinated the curious.
5. L'Auberge du Lac-à-l'Eau-Claire, Mauricie
The charm of Lac à l'Eau ClaireThis link will open in a new window, is that there are very few motorized boats on it. The sturdiness of the rabaska will make it easy for you to enjoy the peaceful waters of the lake and all the birds that can be found there. Get a close look at the loons, ospreys, herons and sawbills, all regular visitors to this haven in Saint-Alexis-des-Monts, the Auberge du Lac-à-l'Eau-Claire.
6. Parc naturel régional de Portneuf, Capitale-Nationale
At Parc naturel régional de PortneufThis link will open in a new window, you have a wide range of water bodies to choose from: the Saint-Anne River gorge sector, Long and Montauban lakes, Carillon Lake and Sentier Des 7 Merveilleux trail. This last one will take you on a canoe-portage adventure where you'll be able to cross seven lakes connected by a hiking trail. Be prepared to carry your boat for 900 metres (don't worry, that's the longest stretch)!
Ask your outfitter about rabaska rentals, an activity your whole family will enjoy!