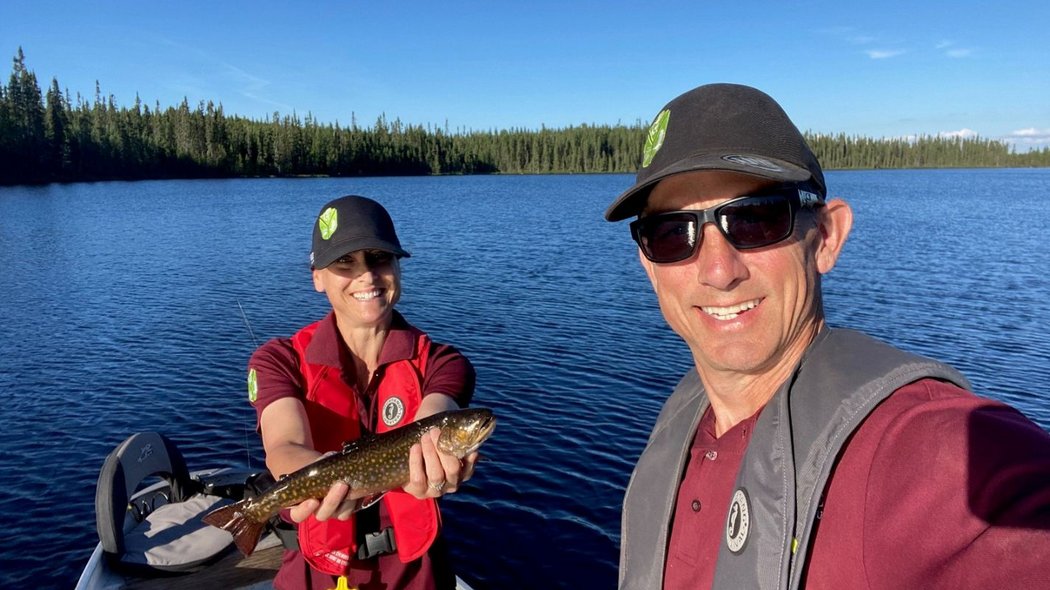 The pandemic gave wings to the Brais-Beaudoins's dreams. They decided to sell everything and become outfitters in Haute-Mauricie, a region they knew little about, but that resonated deeply with them. On their 181 km2 of wilderness, they believe they've finally found paradise and feel more alive than ever at Pourvoirie du Lac LareauThis link will open in a new window.
In early 2022, Stéphane Beaudoin was still a bus driver, and Stéfanie had her own business selling sanitary products and equipment on Montreal's South Shore. The call of the wild was growing stronger by the day. "Our four children had left home, so we were as free as birds," said Stéfanie. The pandemic had the effect of stirring within them a desire for change. "We kept wondering what we'd do if we had the courage to sell up." The answer quickly came to them.
Stéphane is from a family of game trappers and hunters: "It's in my blood." Stéfanie, on the other hand, was thinking a lot about her childhood memories at the family cottage: "We'd go there all summer—they were the best times of my childhood," she recalled. A return to nature was much needed.
"Pourvoirie Lac Lareau was the first outfitter we visited, and it was love at first sight!" In April, they became the official owners of a domain comprising a river and 89 lakes. "The day I set foot here for the first time happened to be my 50th birthday," said Stéphane. Living the woodland life was about to become a gift to himself.
"What we love about this existence is the closeness to nature and the ties we build with people who really appreciate it," said Stéfanie. The first season was a real whirlwind. "We improved many things in a very short time." The couple discovered all kinds of hidden talents and an ability to handle any situation. "There's no hardware store nearby. My best assistant has been YouTube," added Stéphane, who is certainly glad to have had high-speed Internet installed.

There are countless chores to be done, but doing them together is better. "We like heading out with our chainsaws to clear the trails, or installing solar panels or repairing a rowboat," said Stéphane.
"We weren't always so versatile, but we're getting that way."
When they take a break on the mountain top, admiring the beauty of their land and its fish-filled lakes, they wonder if they're dreaming. "We worked hard on this," said Stéfanie. "Wait until you see the big, beautiful 18-inch native trout!" added Stéphane. And he has reason to be proud.
To find out more about the Pourvoirie du Lac Lareau or to book your stay