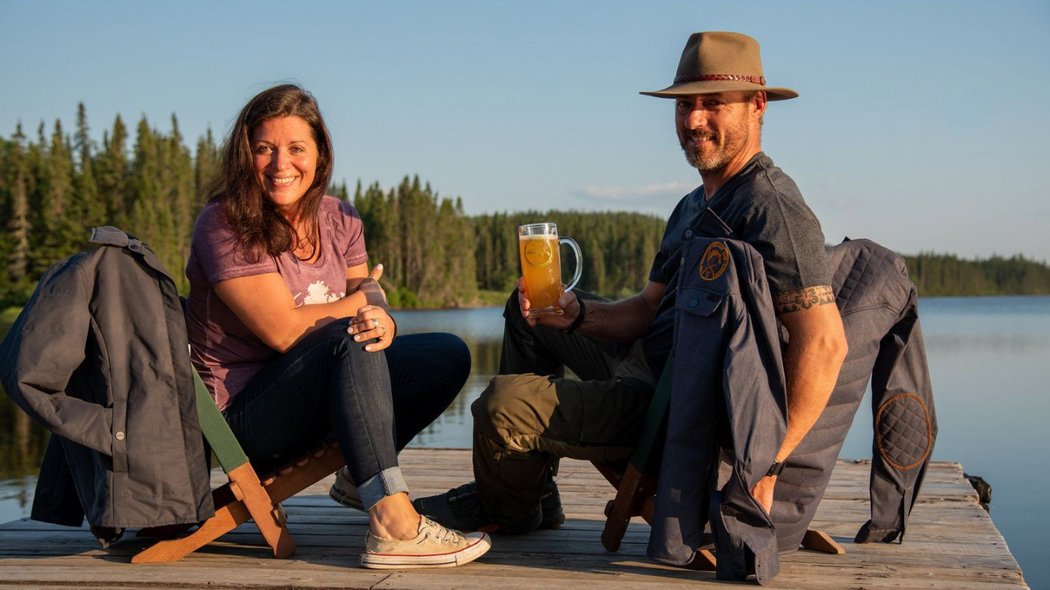 In this beautiful place, which was operated long before them by another generation of Tremblays, Annie Tremblay and Nicolas Bernard are like fish in water. Becoming outfitters was a natural for this dynamic couple. Along with their three children and a fabulous team, they spend their time creating meaningful experiences for future generations.
The Tremblay family has so many fond memories involving fishing expeditions, early morning walks in the forest and campfires under the stars. "My parents Gilles and Annette ran La Seigneurie du TritonThis link will open in a new window for nearly 15 years before Nicolas and I took over in 1995. The outfitter is our whole life," said Annie.
She may be the perfect archetype of the woodland woman, but Nicolas, too, grew up with the outdoors in his blood: "I was born in France to a family where hunting, fishing, nature and tradition were a part of everyday life." During a stint at the Triton as head chef, he literally fell in love.
Their story is one of passion. "That's what it takes to be an outfitter," say the couple, who complement each other perfectly. "Nicolas is always coming up with new ideas to change the visitor experiences. I work out the details and ensure they have a solid foundation. We're riding this wave together, inspiring one another and having fun."
Annie and Nicolas have a great respect for the outfitter's history. "We see it as an honour to carry on a tradition that dates back to 1893," said the couple. Twenty years ago, they decided to live here full time and start a family, even if it meant that the children would have to go to school by boat!
Félix, Cloë and Alex are now 18, 16 and 13 years old. They've always been extremely involved in the evolution of the outfitter. "We've had countless brainstorming sessions where great ideas were born. Our children now contribute to Triton 3.0. They work with us every summer while pursuing their own dreams. Félix is studying to be a pilot, Cloë wants to go to HEC and Alex is already talking about studying at ITHQ. Nothing incompatible with the Triton!
Feet firmly on the ground
Sharing their passion and passing on their knowledge—that's what it's all about for this energetic pair. Each of their initiatives is done with sustainability in mind. The social side of sustainable development has always appealed to them. They are actively involved in their community of Lac-Édouard. "We helped build the elementary school, Annie served on the municipal council and I'm the fire marshal," said Nicolas. "We're not just passing through," added Annie.
To find out more about La Seigneurie du Triton or to book your stay