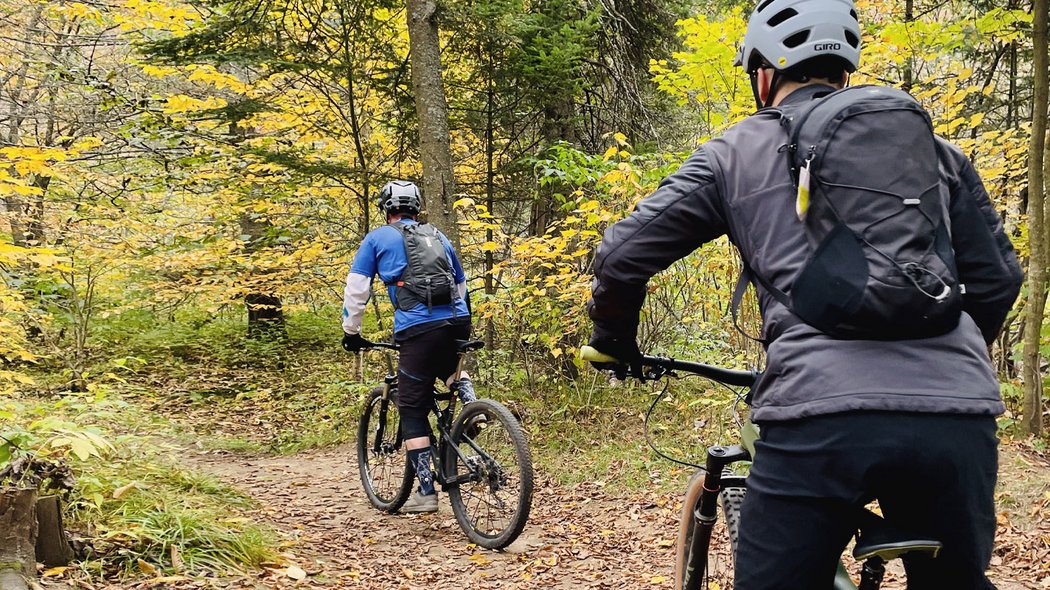 Outfitters: a must for mountain bikers
Mountain biking is becoming more and more popular each year. There are more than 1.1 million mountain bikers in Quebec! The COVID-19 pandemic has only intensified this growth in recent years and there are more and more products available to cyclists. In fact, the equipment is becoming scarce at times!
That's why some outfitters offer their visitors the opportunity to enjoy this challenging but exciting sport on their beautiful trails. You can even rent the equipment you need for a spectacular bike ride.
Using the equipment at the Matchi-Manitou Lake LodgeThis link will open in a new window near Senneterre, in Abitibi-Témiscamingue, you can explore Mount Bell and its many kilometres of newly developed trails.
In the Lower St. Lawrence, more than a hundred kilometres of trails await you at the Baronnie de KamouraskaThis link will open in a new window, in the heart of the Appalachians. Its 65-km² territory located at an altitude of 550 metres is a paradise for cyclists and provides a nice challenge.
The Pourvoirie du Lac MoreauThis link will open in a new windowis fortunate to be located in the mountainous region of Charlevoix. A two-hour drive from the city of Québec[SD1] , it is located near Parc national des Grands-Jardins and Parc national des Hautes-Gorges. Venture by bike near their impressive rock faces that decorate the landscape.
At Pourvoirie CockanagogThis link will open in a new window in the Laurentians, you'll be charmed by the endless forests, with no neighbours in sight. You can enjoy the trails and end your day with a beautiful sunset at the water's edge. Not far from there, Pourvoirie CécaurelThis link will open in a new windowis also a nature adventure destination near Mont-Tremblant that will appeal to mountain biking enthusiasts.
Itching to go on a mountain biking excursion? Great! Our outfitters are ready to take you. Satisfy the cyclist in you by booking your adventure stay today.