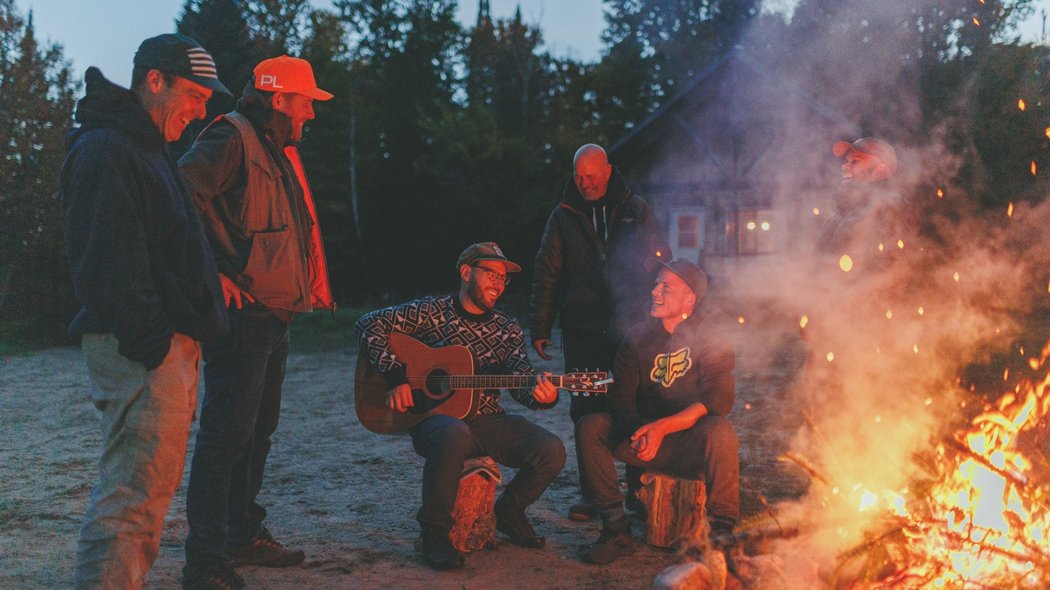 Ever considered spending a vacation at an outfitter? The advantages are endless! Whether you go with friends, family or on your own, outfitters have everything you need for an unforgettable time. We may be partial to our member outfitters, but after reading this, you will be too!
1 - An ideal place for beginners
Hunting and fishing are wonderful pastimes, but getting started on your own can be challenging. Outfitters are experts in the field who can advise, guide and equip first-timers of all ages. No one knows the land and water better than they do—they're an endless source of information!
Outfitters can also supply all the equipment you need. For a fishing trip, that can include a boat and motor. If anyone in your group is hesitating about getting started at hunting or fishing . . . don't. Your outfitter will see you right!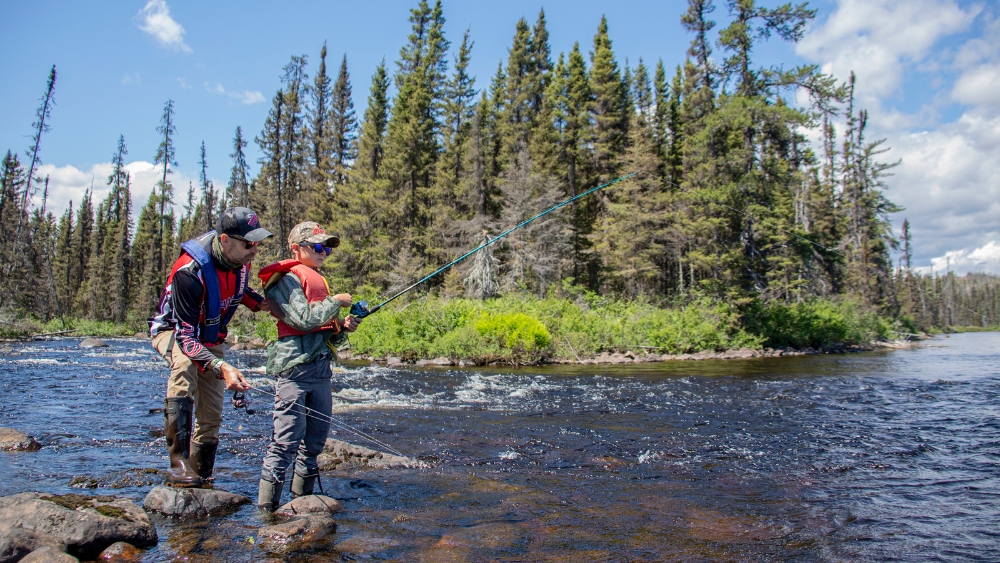 2 - Home to a wide range of activities
Not a big fan of hunting or fishing? No problem! There are lots of other activities to enjoy at our outfitters year-round. There's so much on offer, you certainly won't have time to get bored.
You could head out on a paddleboardThis link will open in a new window, canoeThis link will open in a new window, kayakThis link will open in a new window or pedal boatThis link will open in a new window while the rest of your group goes fishing. Or enjoy a swim or have fun in a floating water park.
You might prefer to stay on dry land and explore the local area with a hikeThis link will open in a new window or an introductory wilderness survival courseThis link will open in a new window. Or observe the fauna and floraThis link will open in a new window from a new perspective with our experienced guides. Six of our outfitters also offer guided horsebackThis link will open in a new window rides through the forest. Want to practise your hunting accuracy? Try your hand at clay pigeon shootingThis link will open in a new window. Then finish the day around the fire with a good book and some marshmallows.
Winter also offers an endless choice of options: cross-country skiingThis link will open in a new window, snowshoeingThis link will open in a new window, slidingThis link will open in a new window, ATV ridingThis link will open in a new window and much more! Some outfitters are also snowmobileThis link will open in a new window stops, where you can rest up and fuel up before going back on the trails. Motorized sports not your thing? Try dogsleddingThis link will open in a new window—a unique and unforgettable experience!
3 - A great place for an all-inclusive vacation
When we think about all-inclusive vacations, a tropical destination is what usually comes to mind. But you can also enjoy one right here in La Belle Province!
In addition to accommodation, some outfitters offer European meal plans that include dinner. Others offer packagesThis link will open in a new window that include a few meals in the dining room or at the on-site restaurant—a real treat for the whole family. Grill masters will love using the barbecues provided on-site to cook their catch of the day!
Now, the next time you picture an all-inclusive destination, maybe you'll think of our outfitters!
4 - Comfortable accommodations
In total, Quebec outfitters add up to nearly 4,400 lodging units, 10 wilderness lodges (aubergistes) and some 60 corporate outfitters. Have something specific in mind? We've got it for you!

CottagesThis link will open in a new window are equipped with all the amenities to accommodate the whole family or a group of friends. Get away from it all while enjoying the comforts of home. After a great day outdoors, you'll have a home base to come back to and relax in.

CampingThis link will open in a new window is another classic choice for lovers of the outdoors. Tents, motorhomes and trailers are welcome at our outfitters, who offer serviced and unserviced sites to suit your needs. At night, you can look forward to friendly get-togethers around a campfire.

LodgesThis link will open in a new window (auberges) enable you to enjoy nature in a high degree of comfort. They offer many services, including dining, so you can experience a complete change of scene and still have all you need. Check out the wilderness lodgesThis link will open in a new window on our website, offering a unique concept of lodging and dining in nature.

Finally, rustic cabins and guest lodges are the perfect place to enjoy the simplicity of nature and unwind before embarking on the next day's adventure. These walls have certainly heard a lot of stories from past hunters and anglers!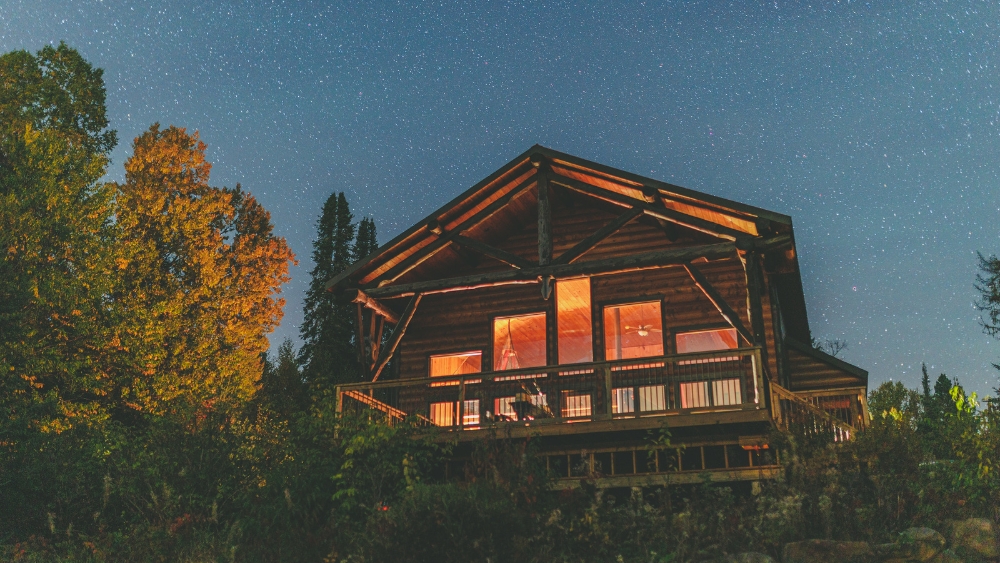 5 - Ideal way to escape for a week or a day, any time of year
Whether you're planning a summer vacation or holiday break, outfitters are always a good choice since many are open year-round. They're a great way to get away from it all easily, with some located less than an hour's drive from major cities. Not all outfitters are situated in remote, hard-to-reach areas, at the end of a semi-maintained dirt road—on the contrary! So put the clichés aside and consult our map of Quebec to find an outfitter near you.
Whether it's for a day or a week, you're sure to find an outfitter to suit you. Stimulating and fun-filled stays guaranteed!