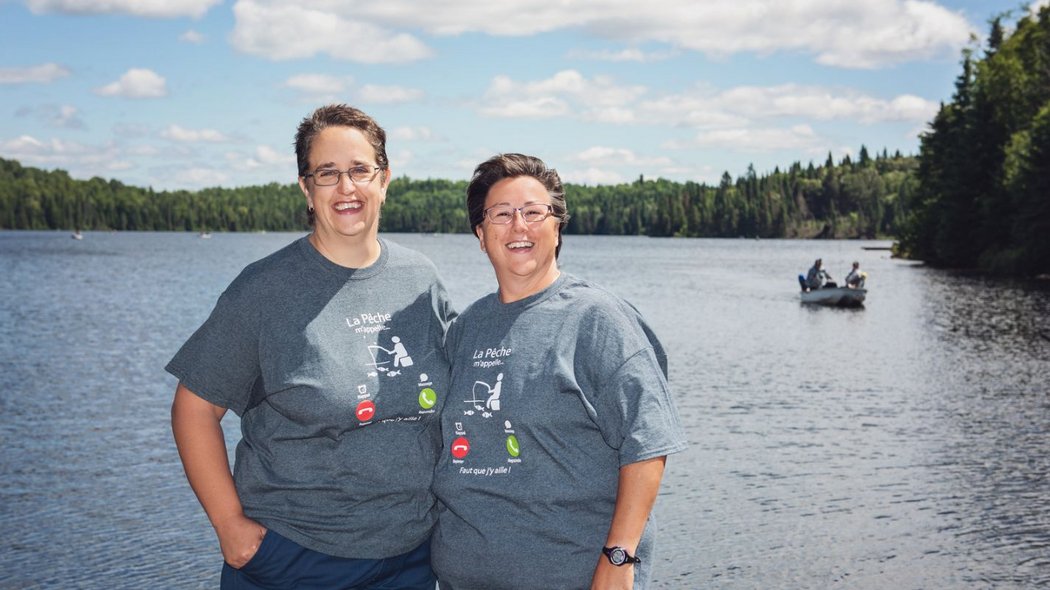 Whoever said that fishing was a boys' club? Definitely not Sylvia and Magalie! Their story is inspiring, as is the passion they have for humanity in all its diversity. If you could sum up their property, Pourvoirie Saint-Zénon, in one word, it would be "empathy." Here it's all about enjoying life and making lasting memories.
Sylvia and Magalie are a committed couple. For a long time, their professional paths seemed well mapped out. "I did a lot of sailing before taking a management position in the marine field," says Sylvia. As for Magalie, her job in social work kept her busy for nearly 30 years. Then, in the summer of 2017, a fishing trip to Lanaudière opened their eyes to a new world. A dream started to take shape.
A few weeks later, Magalie happened to see a classified ad in the local newspaper: Pourvoirie Saint-Zénon was looking for a general manager. Sylvia applied, along with some 40 other applicants—and she got the job! So, in 2018, they moved to Sainte-Émélie-de-l'Énergie with their daughter Kymilie. They had a dream back then: to buy the outfitter and make it theirs within 5 to 10 years.
One year later, it was a done deal, although their first year operating the outfitter was far from smooth. "Who would've thought that two former civil servants could make a go of managing an outfitter?! Everyone said we'd flop." But their patience (it took six months to get it together) and resourcefulness helped them turn things around and get the project on track.

The two women quickly reinvented the outfitter, which now operates year-round. "We found staff who were motivated, who share our values and are committed to ensuring customers have an outstanding experience," said Magalie, who is in charge of HR. "We separate the tasks in a natural way—Sylvia loves manual labour, organization and machinery, but I do the plumbing. I love that!"
They added a few modules to their playground to attract families. "We asked Kymilie to pick the ones she liked best from a catalogue. Of course, she chose the biggest ones," laughed Sylvia.

Magalie likes to say they've gone from solving problems to creating happiness. They certainly pay close attention to their customers' needs. "We modified one cabin to accommodate people with reduced mobility. And we even adapted a pontoon for them. We named it Lily in honour of Liette, a courageous and loyal customer."

Their favourite spot? "The summit of Refuge du vagabond . . . for the spectacular 360-degree view, but also because we got married there five years ago." And that's priceless!
To find out more about the outfitter or to book your stay
Text written by Diane Laberge for the Guide de la pourvoirie 2023.