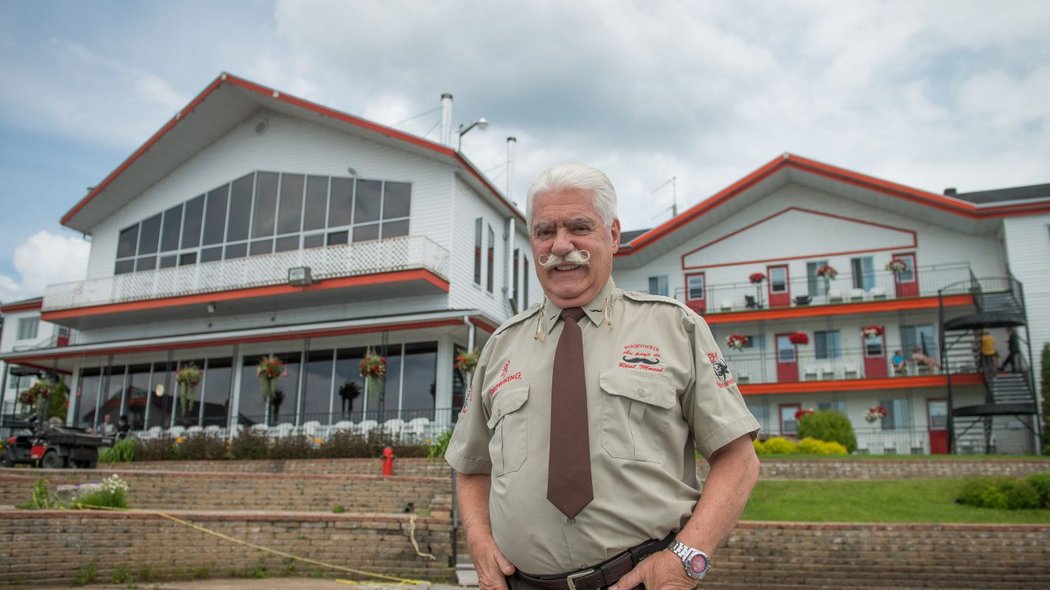 Covering an area of 20 sq. km., this outfitter may be one of the smallest, but it's one of the most important in Quebec. For over 36 years, Pourvoirie au pays de Réal MasséThis link will open in a new window has been reinventing the business. And at 81, the "father of today's outfitters" is far from having said his last word.
Long before sporting his trademark moustache, Réal Massé dreamed of being the best. As a young delivery man for O'Keefe beer, who went on to own five microbreweries, Réal was already thinking big. But he didn't yet know that one day he'd become a leader in Quebec's outfitter sector.
Réal was 45 years old when his life took an unexpected turn. "One Monday evening, some people came into my brewery with an offer to purchase the place. It was an offer that simply couldn't be refused," he said.
Nine months later, he had bought the Club de chasse et pêche Léonard Bellerose, an institution in Saint-Zénon. "I'm the son of a coureur des bois and a real hunting enthusiast. It was a perfect fit for me." At the time, the site could accommodate 10 people and came with eight boats. However, his enthusiasm was to be short-lived.
Six months later, in January 1987, his lodge was completely destroyed by fire. Being a fighter at heart, Réal licked his wounds and rolled up his sleeves. He built a new 24-room lodge and 18 cabins, renaming the outfitter "Au pays de Réal Massé." Today, the site has 32 employees and receives over 17,000 visitors each year. "Ninety-four percent of my customers are couples. A 4-star clientele," said Réal, who insists on wearing a tie every day . . . "It's a question of respect."
Réal Massé is a real character. Colourful, intuitive and generous, he's rewritten the rules of the game and continued to make history. American Plans, topnotch equipment, baggage transport, golf carts to get to the lakes, lively menus—nothing gets overlooked. "My product is worthy of the top hotels." There's even a chapel on site.
Here, comfort is part of the package. "People often say that I'm like a Château Frontenac; some journalists have even called me the Maurice Richard of outfitters," said Massé with great pride.
His ultimate objective is to pamper his customers by giving them the best of himself. Réal doesn't see himself retiring. "I check the lakes myself twice a day and I'm here in summer and winter, when the place turns into a snowmobile relay."
There's no doubt about it: being an outfitter keeps you young and fit!