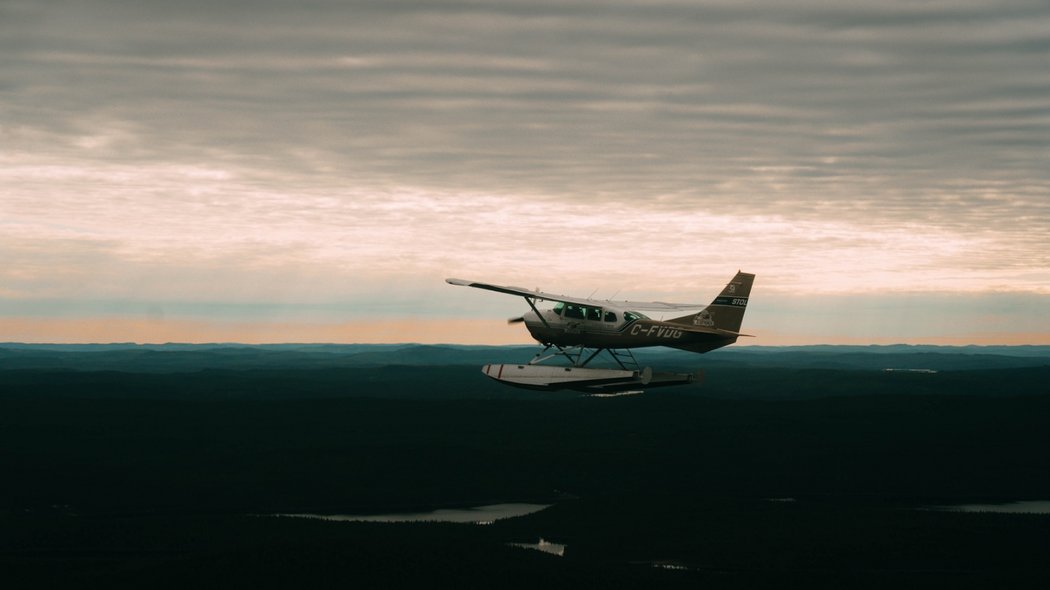 Ready for take-off? Destination: nature! 
Outfitters are known for offering wonderful getaways in nature. Sometimes, to get to these peaceful, remote areas, you need to take a seaplane.
Some of our outfitters are accessible only by seaplane, offering the ultimate experience for hunting and fishing enthusiasts in search of adventure. Discover places deep in the forest where wildlife abounds and the tranquility is amazing. Here are some outfitters that will make a great choice for your next trip:
Located 117 km from Quévillon in Abitibi, St-Cyr RoyalThis link will open in a new window has everything you need for a quiet, comfortable stay. Upon arriving by seaplane, drop off your luggage at the magnificent 5-star log cabin. It's the only outfitter in Quebec accessible by seaplane that has received this rating. The ultimate getaway!
The wild terrain of Club du Lac VictorThis link will open in a new window is accessible only by seaplane and portage from Natashquan, a unique three-hour expedition. Make the most of this trip to explore the backcountry of Minganie, with its forests, untamed rivers and lakes teeming with fish. Add a taste of local culture to your trip with a tour of Innu land accompanied by friendly Indigenous guides.
3. Air Mont-Laurier outfitters network
Choose your ideal location from among the largest outfitters network in Quebec: Air Mont-LaurierThis link will open in a new window. Hunters and anglers looking for a remote stay will appreciate the network's diverse fleet of floatplanes. Peace and quiet reign at the Jesmer and Tiberiade outfitters, which are ideal for moose hunting.
4. Pourvoirie Baie de l'Est
Accessible only by seaplane, this is the only outfitter located in Baie de l'EstThis link will open in a new window. Enjoy fishing for walleye and pike in the majestic tranquility of the Gouin Reservoir. Ten camps are at your disposal, all located near the best fishing spots. Want to cast your line in the fall? The colourful fall season always holds surprises for anglers . . . like the biggest walleye!
5. Air Tamarac outfitters network
A trip to an Air Tamarac outfittersThis link will open in a new window is always a great experience, one you'll want to repeat year after year! Take their air taxi to reach some of Quebec's best fishing and hunting locations. Like walleye fishing? Try Lac Hébert or Lac Charlotte. For large pike, head to the western edge of the Gouin Reservoir, where every fishing trip is a successful one. If you're looking for great moose hunting, head to Lac Sauterelle or Lac Angèle, two preserved territories of superior quality.
Enjoy a true Northern experience 1,000 km from Montréal at Lac Lucie outfittersThis link will open in a new window. This region, called Eeyou Istchee Baie-James, boasts abundant fish-filled waters and unique scenery. The outfitter's terrain comprises 45 km² of land with exclusive rights—an ideal place for fishing perch, pike and walleye.
7. Le Club de pêche du Lac Justone
Fly out of Fermont or Labrador City to reach your fishing camp at Lac JustoneThis link will open in a new window. Discover and explore the Caniapiscau River and its tributaries, teeming with Atlantic salmon, speckled trout, lake trout and large pike. Enjoy privileged access to Quebec's far north and its unspoiled wilderness. The star-filled skies are simply spectacular!
With only 100 anglers authorized per season, you'll be among a select few who can access the 22 lakes on Pourvoirie NordicThis link will open in a new window, north of Lac Saint-Jean. Given the limited fishing pressure on these lakes, you can be sure of abundant, high-quality catches. Discover a territory deep in the boreal forest where the speckled trout reigns.
Make your next fishing or hunting trip a memorable one by heading to these spectacular, remote areas by seaplane. Book your stay and flight today. Come aboard!
Discover all outfitters accessible by seaplaneThis link will open in a new window